Trio du Sang brings together Bobby Fajardo (Latin and Middle Eastern percussion instruments), Andrew May (electric 5-string violin), and Gregg Prickett (electrified classical guitar). Drawing upon their overlapping backgrounds in rock, jazz, classical, avant-garde, and folk traditions from around the globe, these three musicians are seeking a new urban fusion: the folk music of a modern American city.
Hailing from a long line of musicians, Bobby Fajardo was born to
drum. Performing since age 9, Bobby is serious about his craft, earning a Bachelor's in Music from Baylor University and a Master's in Music from University of Miami. He's played every style of music in every venue imaginable, from local heavy metal acts, to recording with the likes of Pharrell Williams and Kenny Loggins. Bobby has also performed with many ensembles, including the Charlotte Symphony Orchestra (FL), Dallas Flamenco Festival, the Waco Symphony Orchestra, the Miami Symphony Orchestra, Henry Mancini Orchestra and the Texas Music Festival Orchestra. While perfecting percussive studies in the U.S., he studied darbuka with Gunay Adali in Istanbul, Turkey. Seamlessly matching the timbres from West Asia to the Caribbean, his goal is to support the global groove of Trio du Sang.
After several happy years as guitarist, singer, and songwriter with Persona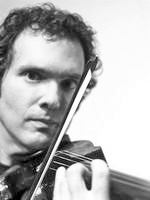 Non Grata, an Egyptian techno-polka power trio performing in New Haven and New York, Andrew May ran off to California and fulfilled his destiny as an avant-garde composer and violinist, with graduate degrees from CalArts and UC San Diego. He eventually found work at the University of North Texas as a teacher, composer, and computer musician … but some histories cannot be so easily escaped. The urge to play and improvise with other musicians in clubs led Andrew to join in a variety of avant-garde improvisation projects, one of which led him to become the violinist of Trio Du Sang. He plays a 5-string electric violin made by John Jordan.
Gregg Prickett is one of the most consistently creative guitarists in North
Texas. A Dallas native, he has played with jazz combos, rock and country groups of all kinds throughout the area. In the late 90s and early 2000s, he led the Monks of Saturnalia, a jazz group playing a cutting-edge style that took influence from post-bop, free jazz, rock, and a lush, Mingus-inspired sense of harmony; some of the many books of songs he wrote for this project resurface in his current performances. He is a member of Unconscious Collective, a jazz-rock crossover incorporating aspects of psychedelia, experimentation, free improvisation, body art, theater and ritual. In addition he delved into the outer sonic reaches with metroplex luminary Sarah Ruth Alexander in They Say The Wind Made Them Crazy , a duo from North Texas in which Prickett and Alexander explored a dense, dark, and emotional brand of avant-garde folk music. He was also a member of the last line-up of Ronald Shannon Jackson's pioneering jazz/funk/punk crossover group The Decoding Society, and played on their final performance, which included two of his compositions. He was a member of Dead To A Dying World during the period that produced the album Litany. During a short period living in Chicago, he played in experimental jazz/ metal collective Asylum, as well as an early incarnation of doom outfit Rabid Rabbit with whom he recorded a couple of releases. Other Dallas rock bands he has been in include The Immaculates, The Falkon, The Black Arm Band, The Black Dotz, and Shanghai 5, among many others.